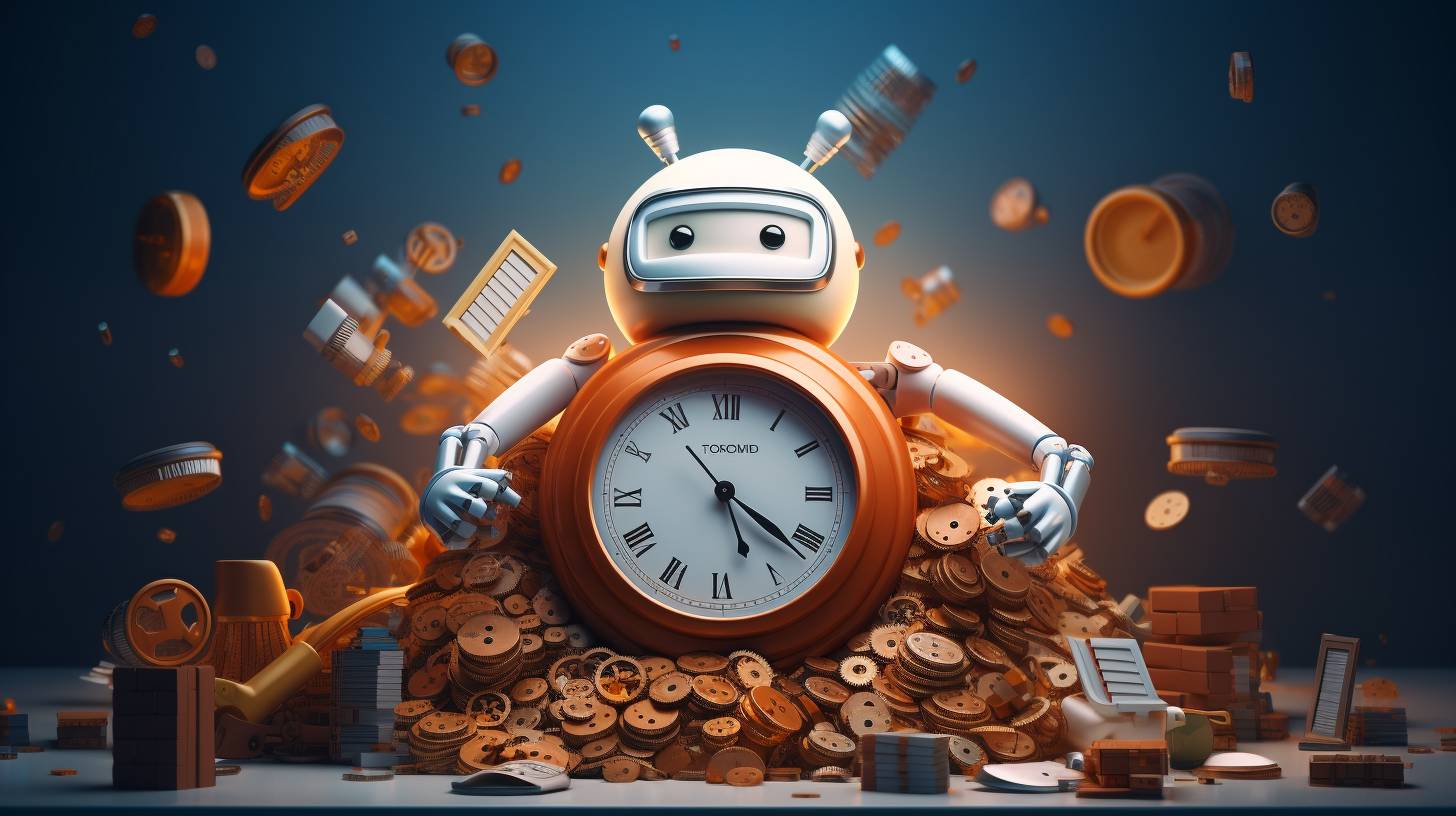 How Automation Applications Can Save Small Businesses Time and Money
As a small business owner, you likely wear many hats on a daily basis. From managing customer relationships and marketing efforts to overseeing operations and finances, your to-do list never seems to shrink. With limited resources like time and staff, taking on all these responsibilities yourself can feel overwhelming.
That's where automation applications tools like  CRM (Content Relationship Management Software), AI Chat Bots or application conecting softwares come in. They can streamline many of your regular tasks, freeing up your time to focus on higher priority strategic work. Best of all, they do so in a cost-effective way that doesn't require bulking up your payroll.
In this blog, we'll explore how these three popular automation platforms in particular can help small businesses save both time and money through features like CRM functionality, marketing automation, contact management and more.
Autumnfires CRM
Looking to optimize your time and cut costs for your business? Look no further than Autumnfire Internet Solutions Inc.'s complete CRM solution, designed specifically for small businesses and solopreneurs.
Autumnfire offers a range of features that help you save time and money:
Streamlined Contact Management: Say goodbye to bouncing between spreadsheets and documents. With Autumnfire, you can track all your contacts, leads, customers, vendors, and more in one centralized place. This eliminates hours of manual data entry and ensures that valuable information is easily accessible.
Efficient Task Automation: Never miss a deadline or important follow-up again. Our CRM allows you to set recurring tasks and reminders via email or SMS messages. Routine to-dos can be automated, freeing up your team's time to focus on more high-value work.
Seamless Integrations: With Autumnfire, you can sync your contacts and data with popular tools like Google Sheets, MailChimp, QuickBooks, and more. By eliminating redundant data entry between different systems, you can streamline your processes and reduce the likelihood of errors.
Automated Review Requests: When a sale is made, Autumnfire can automatically request a Google review. This helps you build your online reputation and attract new customers without any additional effort.
Comprehensive Reporting: Make informed, data-driven decisions with Autumnfire's robust reporting capabilities. Track key metrics over time, such as new leads, closed deals, revenue, and more. By having access to real data, you can identify trends, spot opportunities, and optimize your strategies for maximum growth.
At Autumnfire, we understand the importance of affordability. That's why we offer pricing options tailored to the services you require. Whether you're a solopreneur or a small business, we have affordable solutions that fit your budget.
Save time, streamline processes, and cut costs with Autumnfire's CRM solution. Take your business to new heights. Try Autumnfire today!
Autumnfires AI-Powered Chat Bots
Looking to boost customer support and build trust and loyalty for your small business? Look no further than Autumnfire's AI-powered chat bot!
Our chat bot offers a range of benefits catered specifically to your needs:
Customized Training: Train the AI bot using your company's web pages, Word documents, and PDFs. This ensures that the bot is well-versed in your business and its offerings.
Efficient Information Collection: Gather crucial information like the user's name and contact details for effective follow-up.
Appointment Booking Made Easy: Our AI bot can seamlessly schedule appointments for your customers, saving you time and effort.
Engaging Multimedia Displays: Display images and provide links for document downloads, enhancing the user experience.
Multilingual Support: Assist customers in different languages with our translation features, enabling you to reach a wider audience.
Expand Your Reach: Integrate chat bots not only on your website but also on social media platforms such as Facebook, Instagram, and Google My Business.
Lead Generation Made Simple: Our AI Chat widget acts as a customizable feature that generates leads without the need for increased ad spend.
Continuous Support: Even when you're not available, our chat widget provides live support, allowing users to leave their details for further interaction. These inquiries can be seamlessly transferred to your CRM, and you can follow up with your customers through phone calls, SMS text messages, or emails.

With Autumnfire's AI Chat Bot, you can enhance your customer support and education efforts, ultimately building trust and loyalty with your audience. Don't miss out on the opportunity to provide exceptional service and expand your reach. Try our AI Chat Bot today and watch your small business thrive!
Connection Marketing Automation Made Simple
 There are many apps that connect applications to geather. We at Autumnfire like Pabbly. Whether you're just starting out with marketing automation or want more power Pabbly is a great option. It focuses first on ease of use so you can start seeing results with over 1,000 connects including Shopify, WordPress, ActiveCampaign and more.
Sync data seamlessly.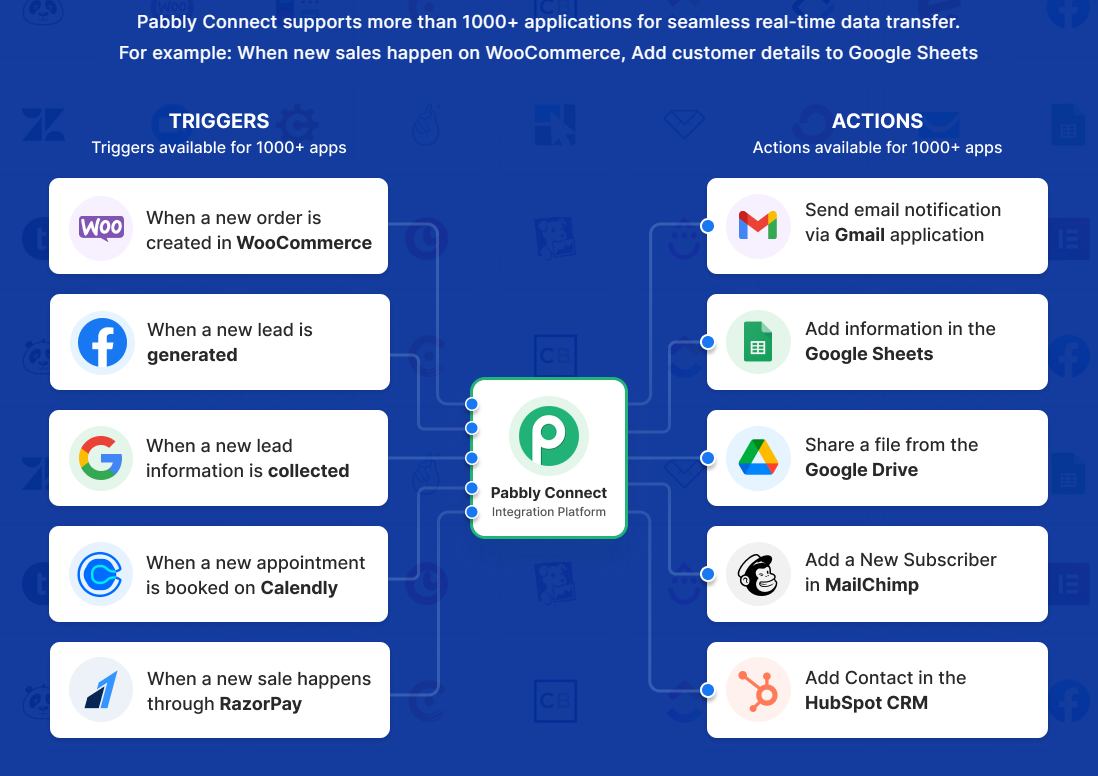 Here are some key benefits of automation applications for small businesses:
Increased efficiency. Automating repetitive tasks frees up employee time to focus on more strategic work. Tasks like data entry, invoicing, and customer communication can be streamlined.

Reduced errors. Automation minimizes human errors that can occur with manual processes. Data is entered accurately, and processes are followed consistently.

Cost savings. Automation applications help reduce labor costs by replacing manual tasks. Small businesses also save on costs associated with errors.

Scalability. Automation allows businesses to scale workflows easily as demand increases without needing to expand the workforce. Processes remain consistent as a company grows.

Improved customer experience. Automation streamlines customer-facing processes like order fulfillment, communication, and support requests. Customers benefit from faster response times and a seamless experience.

Data-driven insights. Automation applications capture valuable data on processes, customers, and key metrics. This data provides insights to optimize strategies, spot trends, and make informed business decisions.

Increased productivity. With repetitive tasks automated, employees can devote more time to tasks like customer service, sales, new product development, etc. that advance business goals.

Regulatory compliance. Automation ensures compliance with industry and tax regulations by standardizing document workflows, record-keeping, and billing processes.

Talent retention. Automation empowers employees by reducing routine work. They can focus more on strategic work and skill development, helping businesses attract and retain top talent.

Flexibility. Automated systems are scalable and adaptable, allowing businesses to modify processes quickly as needs change. This gives small companies an edge over less agile competitors.
Take The First Step Towards Automation
As you can see, automation tools like CRM's, Chat Bots and application like Pabbly provide versatility across key business functions. Best of all, their low price points make adoption very achievable, even for solopreneurs and very small companies.
Rather than trying to do everything yourself, leverage these platforms' features to streamline repetitive tasks. Reclaim hours each week to spend on high-impact strategic initiatives.
Autumnfire Internet Solutions creates, hosts, maintains, and secures websites for businesses.
Comment on this blog article or contact us if we can help your business.